Dear Customers,
On Tuesday, December 7 at 9:37 AM (PST), Amazon Web Services (AWS) services were disrupted by a regional outage (US-East-1) that caused outages and high error rates. Although the problem was concentrated in a single region, it had global effects as the operation of its management dashboard access service (AWS IAM and AWS SSO) was concentrated there.
As a result of this failure, at Modyo we detected the following problems that affected the delivery of our services:
High error rates in the AWS API Gateway based service.
Errors in accessing the AWS control panel
Problems in the execution of development pipelines.
Modyo Cloud and Modyo Enterprise Cloud services were not affected by the incident.
At 4:35 PM (PST) AWS announced that the issue is under control and that the affected services would gradually return to normal, which we evidenced by noticing a decrease in reported errors.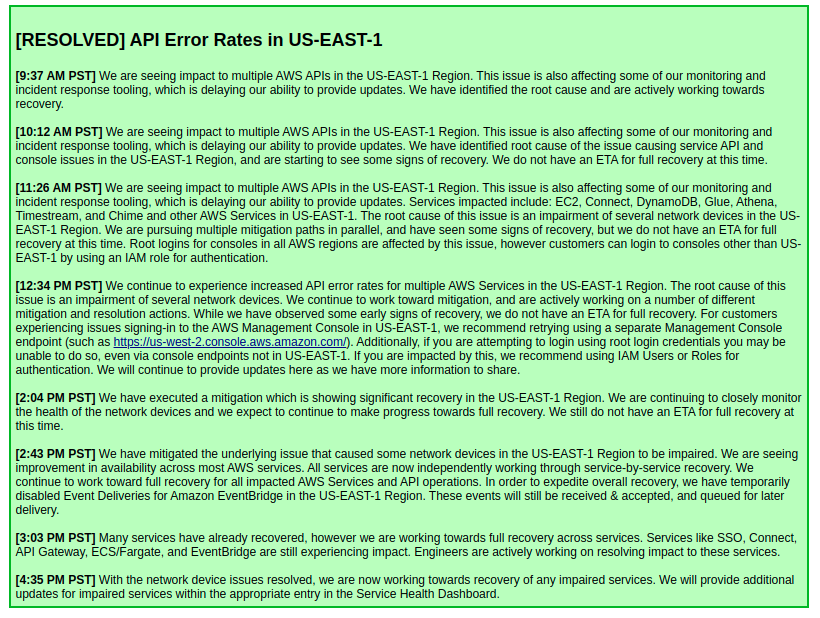 We deeply regret the inconvenience this issue may have caused. From our side we will escalate the issue internally with AWS to get more background and internal procedures will be reviewed to better address failure cases for which the AWS control panel is not available.

Regards,
Jose Antonio Silva
CTO, Modyo